Verslag IIC 2017 Manchester (sabum Rory & boosabum Bo)
Geplaatst op 14-07-2017.
IIC 2017 Manchester 
After a kind invitation from Sabum Jeff Brider, Sabum Rory and Boosabum Bo travelled to Manchester for the 120th International Instructors Course (IIC). In the IIC, participants are trained in the most up-to-date technical information provided by the ITF technical committee (Grand Master Marano, Grand Master Lan and Master Laquerre). Rory and Bo came back with a lot of technical information, which they will teach in their classes and to the Sportschool Tim Kool instructors.

We would like to thank Sabum Jeff Bride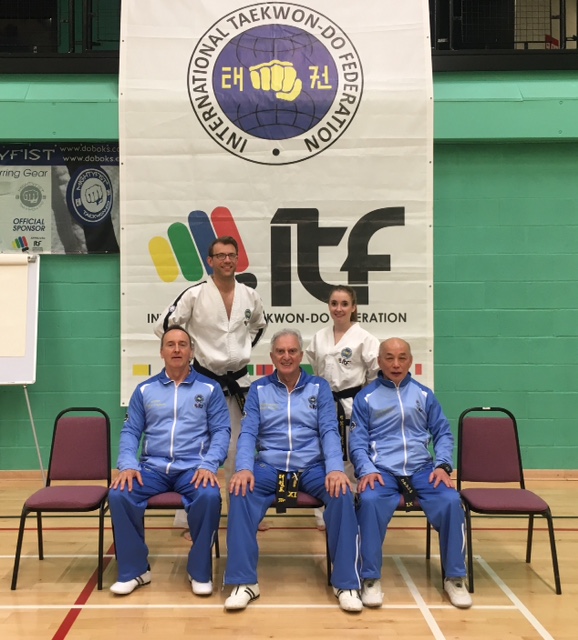 r for the invitation and doing a lot of work in the organisation of the IIC. Maybe even more important, we need to thank him for his amazing hospitality, and the time we we got to spend with him and his family, and the extra events we could go to.
You want to know Rory's and Bo's opinion about the IIC? 

Bo: It was my second IIC and it was a great experience. The most special moment was performing patterns in front of the entire group and getting feedback from the Grand Masters & Masters. I learned a lot,
and it was great seeing some old friends and making new ones!
Rory: This was my sixth IIC, and the last one I went to was one a couple of months ago, however every time you go to an event like this you get new information. The IIC is almost 15 hours of training in three days, so it is difficult to stay focused all the time. However, I had a lot of opportunities to ask questions this time, performed pattern in front of the Grand Masters, all in all a great experience. Already looking forward to training all the details, and teaching them in the classes.